ROOFING DOESN'T HAVE TO BE A HEADACHE
Roof repairs can be costly and time-consuming, but it can also be as simple as patching a hole. Its best to evaluate the benefits of repairing vs replacing your roof to find the most practical choice. Below are some maintenance steps and roof repairs that can easily be accomplished by knowing these tips:
Follow These Tips to Help Avoid Emergency Roof Repairs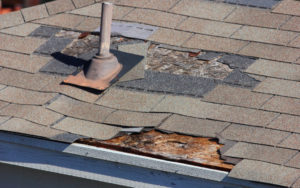 Detecting Roof Problems:
Leak or no leak, your roof requires attention. An annual inspection can uncover minor roof issues before it gets worse.
Fixing A Leaky Roof:
If you encounter a small leak, do not underestimate it. Small leaks can lead to extensive and expensive property damage. This is because water seeps its way into drywall or plaster, causing the wood to rot and it can form mold, which can harm your family's health. An easy fix for small leaks is to apply roof cement to the hole in the roof as soon as you notice the leak.
However, signs of wear and tear can call for a reroof, since you may face future leaks. In the meantime, cover leaks with plastic sheets or plywood until your plan to repair commences. If you think it will take you at least a year to get your roof replaced, then do permanent repairs like replacing shingles. Do a roof and attic inspection after every rainfall to check for necessary repairs and protect your home against water damage.
Replacing Shingles and Shakes
Replace the damaged pieces by removing them, putting in a new underlay, then securing the new pieces in place.
Properly Venting Your Attic
Roofs must be able to breathe to prevent moisture from being trapped in the attic, with the use of venting products and insulation.
Soffit vents, ridge vents, gable and roof vents each have their own function to help stabilize air temperature between your attic and roof.
WHO SHOULD YOU CALL FOR all your roofing needs
As for all roofing projects, there are repairs you may be able to conduct, but then there is more complex projects that you will need help to accomplish. It is best to call in the experts, which will help you save time and headaches. IQV Construction & Roofing can get the job done efficiently while ensuring everyone's safety. If you need an inspection or roof repair call us at 408-638-5500 or request a proposal online.