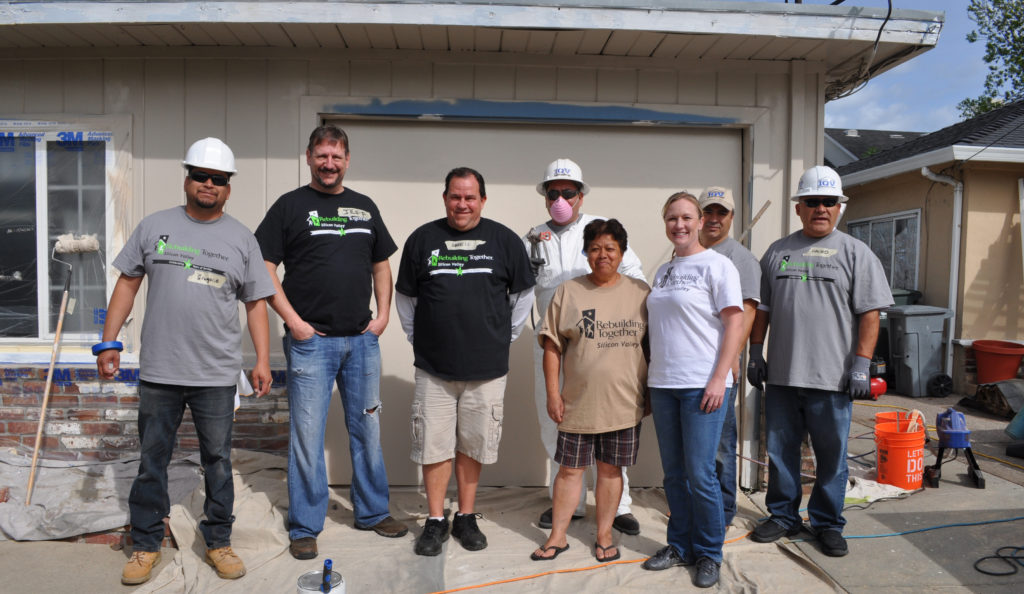 San Jose, CA (4/24/17) – IQV Construction & Roofing and Rebuilding Together Silicon Valley (RTSV) teamed up for a successful National Rebuilding Day in the San Francisco Bay Area! April 22nd, Earth Day and the day slated as National Rebuilding Day, had Rebuilding Together teams repairing twenty-eight low-income homes and seven nonprofits in the San Francisco Bay Area.
For 25 years, RTSV has provided critical repairs and accessibility modification for low-income homeowners, primarily seniors, individuals with disabilities, and families with children — and nonprofit community organizations. All work is provided at no cost to the recipient and has an immediate and tangible impact on those served – providing housing that is safer and healthier.
Nineteen IQV Construction & Roofing employees transformed the home of Ms. Morales, a 62-year-old childcare provider. The homeowner struggles with arthritis pain and tendon issues in her hands and can no longer afford to fix or maintain the home herself. IQV volunteers made much-needed roof repairs, removed and replaced rotted exterior trim, removed and replaced siding, and painted the home's exterior in its entirety.
"In all my 40 years of construction, I've never seen a team work so efficiently and hard to complete a project. We finished before 2:00pm and are very proud of our employees," says IQV COO, Mike Green. IQV President Jeff Radzinski further adds, "IQV was glad to help a neighbor continue to live safely and independently in the home she has owned and been the source of many happy family memories."
IQV Construction & Roofing proudly thanks Osborne Lumber Company, Inc. and Ford Wholesale for the donation of materials to this year's community service project. Thank you to all nineteen employees who volunteered their time for this worthy cause:
Carlos Yanez
Eduardo Fuentes
Emmanuel Cruz
Federico Alvarez
Sergio Leal
Salvador Rivera
Gregorio Contreras Sr.
Aurelio Mata
Heriberto Soto
Miguel Castaneda
Mauricio Martinez
Gregorio Contreras
Raul Navarrete
Nacho Garza
Eliseo Puentes
Ruby Chen
Quinn Brodick
Mike Green
Jeff Radzinski