IQV Construction & Roofing is pleased to announce that it has been awarded the prestigious Certified Green Roofer designation from GAF, the largest roofing manufacturer in North America.  The GAF Certified Green Roofer program was designed in consultation with the US Green Building Council in order to recognize leading roofing companies for their commitment to sustainable business practices.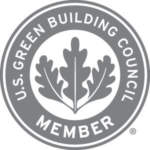 As part of the designation process, IQV Construction & Roofing has participated in USGBC-approved training on the many important contributions the roofing system makes to a green home, including the advanced technology behind cool roofing; techniques for improving indoor air quality via proper attic ventilation; preparing a roof for solar energy; and asphalt shingle recycling.  Additionally, IQV Construction & Roofing has made a commitment to running a sustainable job site and has agreed to participate in their local USGBC chapter to continue enhancing their knowledge of green building practices.
"Being green only starts with roofing. IQV believes in living green and that is why we instituted a recycling program not only for our roofing materials but also for our construction debris," says Mike Green, IQV co-founder. "We are committed to changing the way roofing and construction have been done for decades by constantly looking for recycling improvements to implement into all of our daily activities."
Few major building systems contribute to green building in as many ways as the roof does.  A professionally installed asphalt shingle roofing system from IQV Construction & Roofing can increase your home's durability by controlling moisture, help improve energy efficiency, support renewable energy, and help to improve indoor air quality.  And at the end of its long service life, asphalt shingle roofing is widely recycled into asphalt pavement, meaning that in many cases your old roof can become a new road.