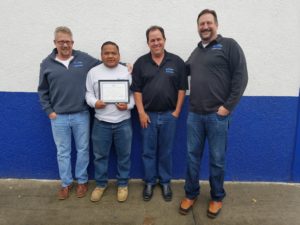 At IQV Construction & Roofing, we take pride in our employees and try to acknowledge their hard work every time we get a chance to. Please help us congratulate our newest "Employee of the Quarter" for Q4 2017–Andres Soto, better known as Bernie!
Bernie serves as one of our Construction Superintend at IQV. He has been with the company since we were established back in 2011, and throughout the years we have seen Bernie grow in his work. He has been one of our top hard workers and we are proud to have him in our team.
Thank you Bernie for all your hard work and being part of our Team!